Dimensions:
12.40 m x 3.85 m x 1.40 m
Description Super Dart 40
This Super Dart, built according to the design of the Vries-Lentsch, has undergone a recent refit in which the ship has been painted, the interior has been replaced and many technical items have been replaced. Very strong diesel engine.
General
Designer
de Vries-Lentsch
Shipyard
Holland Boat Company
Aft cockpit

Steering system
Wheel
hydraulic control
Position steering system
Outside
Accommodation
Saloon

Layout and spaces inside
Front peak with V-seat (two berths), double cabin on SB, corner galley on BB. Salon/ wheelhouse with L-shaped bench on SB, cupboard wall on BB. Entrance to aft cabin with shower/toilet on SB. Rear cabin with double bed, bidet and lots of closet space.
Type interior
Modern, light
Interior renewed 2017/2018
Mattresses

Cushions

Water tank & material
500 litre Stainless steel
new 2018
Water system
Pressure system
Hot water

boiler 60 l.
Television

2 x
Cooker & fuel
3 burner(s) Gas
new 2018
Fridge & power source
Electric
big fridge, new 2018.
Heating

hot air Webasto hot air, operation unknown.
Engine, electrics
Number of identical engines
1
Total fuel tank(s) capacity
1,000 Litre
Fuel tank gauge

Tachometer

Oil pressure gauge

Temperature gauge

Battery
6 x
4 x 220 Ah, 2 x 140 Ah.
Battery charger

Alternator

Shore power

Shore power cable

Comments
Six-cylinder Scania DS11, 240 hp, with Capitol reversing clutch. Turbo overhauled, waterlock exhaust renewed. Drinking water system and gas pipe to galley renewed. Electrics replaced and new fuse box installed.
Navigation and electronics
Navigation lights

Deck Equipment
Sprayhood

Nice young hood.
Sea rails

Push- and pulpit(s)

Swimming platform

Swimming ladder

Dinghy
rubberboot ter overname.
Davits

STAINLESS STEEL
Teak deck

Safety
Bilge pump

Electric
Gas bottle locker with drain

Probably also interesting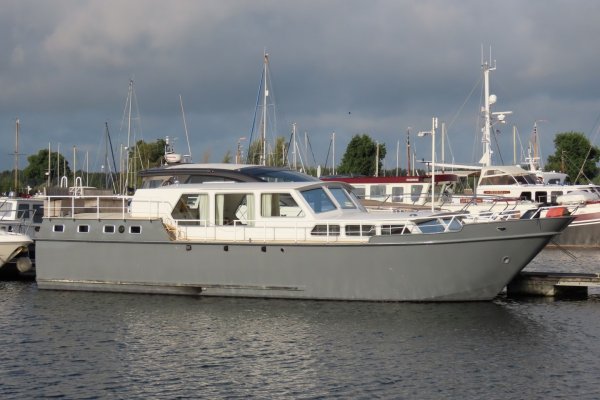 Huge ship, suitable for permanent living. Recently painted and much renewed.
Dimensions:
14.95 x 4.00 x 1.36 m
€ 69.500 (VAT Paid)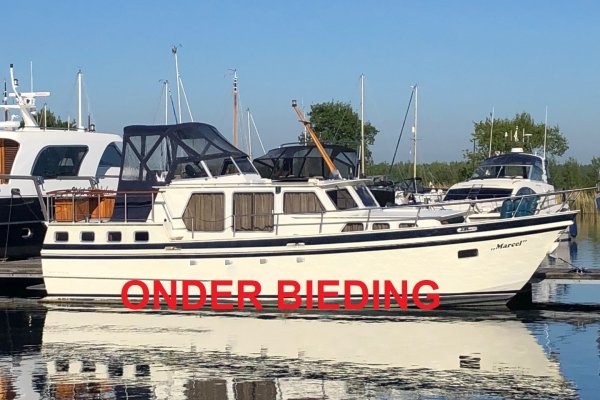 Well maintained spacious motor yacht. Two cabins with four fixed berths.
Engine:
120 horsepower Ford.
Dimensions:
11.80 x 3.60 x 1.05 m
€ 67.500 (VAT Paid)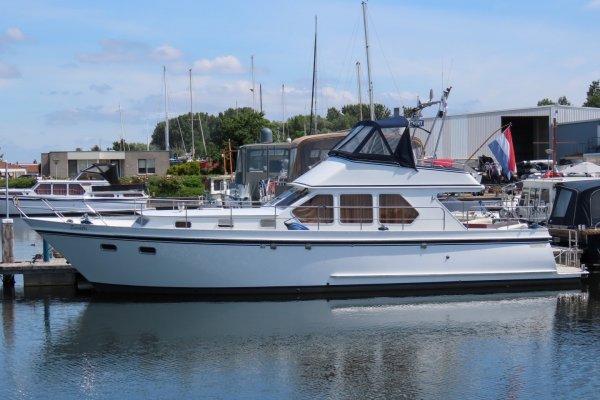 Beautiful Valkkruiser with flybridge and very large open cockpit. Equipped with bow and stern thrusters.
Dimensions:
13.00 x 3.75 x 1.15 m
€ 64.500 (VAT Paid)
Jachthaven Strandhorst gebruikt cookies om het gebruik van de website te analyseren en te verbeteren. Privacy- & cookiebeleid
Deze inhoud wordt niet getoond door uw cookie instelling voor deze website.